The release of vinyl chloride and other chemicals into the air and ground surrounding East Palestine, Ohio raises serious environmental concerns and has long-term implications for the town and those living in the region. As investigators look into the cause of the February 3, 2023 derailment, additional questions are being raised regarding the U.S. Department of Transportation's (DOT) regulatory oversight and the administration's response.
 
U.S. Senator Marco Rubio (R-FL) sent a letter to President Joe Biden urging him to request the resignation of DOT Secretary Pete Buttigieg.
"For two years, Secretary Buttigieg downplayed and ignored crisis after crisis, while prioritizing topics of little relevance to our nation's transportation system. It is painfully clear to the American people that Secretary Buttigieg has little regard for the duties of the Secretary of Transportation."
"At no time has that been more apparent than the past two weeks," Rubio said. "Secretary Buttigieg refused to acknowledge the disaster in East Palestine, Ohio, until his intentional ignorance was no longer tenable. Even after acknowledging the tragedy, he continues to deflect any accountability for the safety of our nation's rail system. The circumstances leading up to the derailment point to a clear lack of oversight and demand engagement by our nation's top transportation official." Rubio says this is "part of a two-year long pattern."
"During historic maritime and surface transportation disruptions in 2021, Secretary Buttigieg was completely absent. Amidst an impending possible rail strike last year, Secretary Buttigieg left the country to vacation in Portuguese wine country. Near misses in commercial aviation, as well as recent system failures, including the one that shutdown air travel in Florida in January, indicate that serious and persistent problems across the DOT are not being sufficiently remedied," Rubio said.
The Florida senator added that he does not "have confidence that Secretary Buttigieg is capable of keeping the American people safe."
While Mayor Pete is focused on wasteful spending targeting swing states and blue coastal cities to buy future votes, East Palestine, Ohio residents are suffering the effects of an environmental and public safety disaster caused by a train derailment under his watch with minimal attention that comes too little, too late.
Mayor Pete is more consumed with building 'diversity, equity, and inclusion' into US infrastructure, then he is about increasing public safety and prosperity for all Americans.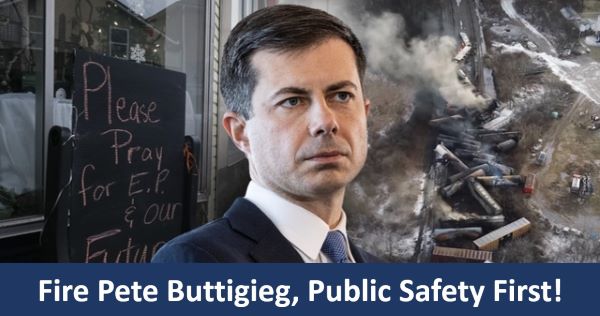 We must restore the color-blind golden standard of the 'Civil Rights Act of 1964', that bans racial discrimination and promotes meritocracy across all races, creeds, and sex to raise up the most qualified individuals for every task, including transportation. THAT is true equity! 
ACT for America Education, a 501(c)(3) organization.
All donations are tax-deductible.
869 Lynnhaven Pkwy, 113 #411
Virginia Beach, VA 23452 USA